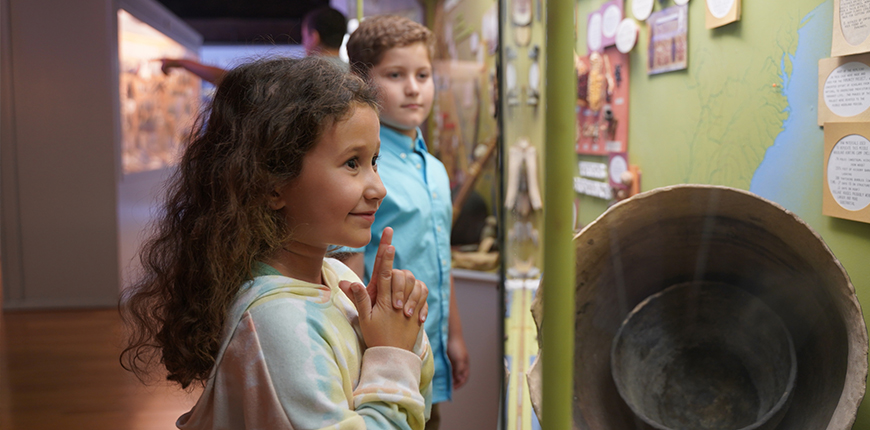 Providing the Public with an accurate account of the Pamunkey Indian Tribe
A Brief History of the Museum
The Pamunkey Indian Museum and Cultural Center is a tribal museum located on the Pamunkey Indian Reservation. The museum focuses on the Pamunkey Indian Tribe's history and way of life from 12,000 years ago through to the present.
Construction on the museum began in 1979, with primary contributions made by Warren Cook and Errett Callahan, and celebrated its grand opening on October 11, 1980.
Early in the museum's history a living Indian Village was a major component of the exhibition but no longer exists. Today glass display cabinets highlight the lifeways of the Pamunkey Indian Tribe and are the centerpiece of the museum. These cases were built by Grover Miles when the museum was founded and still house a majority of the museum collection. The museum displays combine replicas, primarily created by Errett Callahan, with original Native American artifacts donated by Tribal Citizens from their personal and familial collections.
The display cabinets begin with information dating to 12,000 years ago (the Ice Age) and incorporate all archaeological timeframes through to the modern period. The displays in each cabinet are sub-divided into four themes, which are listed below. These themes are color-coded blue, green, yellow and red to assist the visitor in understanding the differences within each theme from one era to the next.
PEOPLE
Displays the way of life of the Pamunkey during that specific era.
NATURAL ENVIRONMENT
The environment in which they lived
SETTLEMENT
Relates to the dwellings in which they lived
SUBSISTENCE
Exhibits the tools they used and how they survived
Visiting the Museum
The museum hosts a gift shop with items handcrafted by Pamunkey Tribal Citizens. Inventory is updated regularly with items corresponding to varying price points to allow all visitors a chance to shop.
Please be advised that the museum is located in a rural setting. Be prepared to bring enough of your own food, drinks, etc. for the entirety of your trip. The museum does not have a working water fountain at this time. Additionally, be sure to check the amount of gas you have prior to visiting to ensure you have enough for your return trip.
Hours of Operation
Click the button above to view the Museum's operations calendar. The Museum is open from 10am-4pm on the identified dates.
Be sure to follow the Pamunkey Indian Museum and Cultural Center on Facebook for the most up to date information regarding Hours of Operation.
Tours and Programming
If you are interested in booking a tour or programming, please email Shaleigh.howells@pamunkey.org
Guidelines
Currently, masks are not required, but are encouraged. This is subject to change based on current CDC guidelines and/or COVID-19 trends. Should masks be required at any time, they will be made available to each guest upon arrival.
Due to space limitations, all groups of 15 or more must reserve a time and prepay admission no less than two weeks in advance (this includes tour bus groups).
Pamunkey Museum & Cultural Center
About The Tribe
Departments
Contact
Address
175 Lay Landing Road
King William, VA 23086
Admission
Seniors (65+) - $3.00
Adults (18+) - $5.00
Children (4+) - $3.00
Children under 4 - Free
Contact
Phone: (804) 843-4792
Email: museum@pamunkey.org