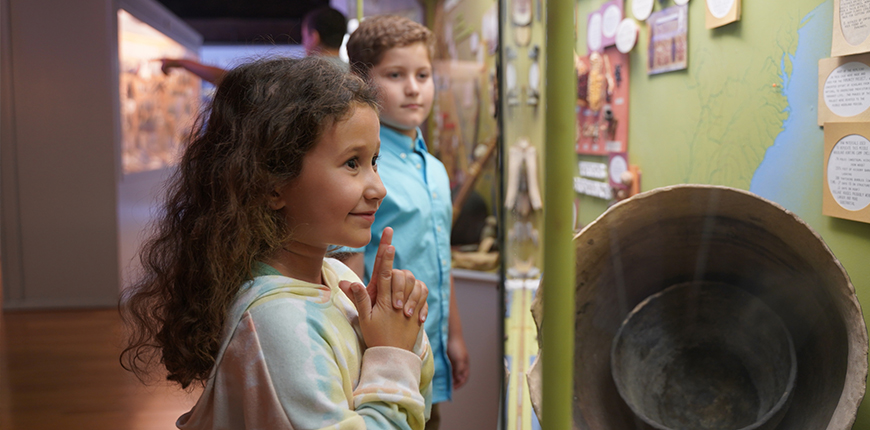 Providing the Public with an accurate account of the Pamunkey Indian Tribe
The Pamunkey Indian Museum and Cultural Center is a tribal museum in King William, Virginia located on the Pamunkey Indian reservation at 175 Lay Landing Rd, King William, VA 23086. The museum focuses on the Pamunkey Indian Tribe relating to our history and way of life from 12,000 years ago to the present.
Construction on the museum began in 1979, with the primary contributions and impetus by Warren Cook and Errett Callahan. A living Indian Village was once a major component of the museum early in its existence. Unfortunately, the living Indian Village no longer exists. The Pamunkey Indian Museum and Cultural Center celebrated its grand opening on October 11, 1980. Glass display cabinets highlighting the lifeways of the Pamunkey Indian Tribe are the centerpiece of the museum. Grover Miles built the display cases, which still display the collections of the museum to this day. The museum displays combine replicas, primarily created by Errett Callahan, with original Native American artifacts donated by Tribal citizens from their family's personal collections.
The display cabinets begin with information from 12,000 years ago (the Ice Age) and incorporate all archaeological timeframes until modern day. The displays in each cabinet are sub-divided into 4 themes. They are color-coded blue, green, yellow, and red to assist the visitor in understanding the differences within each theme from one era to the next. The four themes are:
People - displays the way of life of the Pamunkey during that specific era
Natural Environment – the environment in which they lived
Settlement – relates to the dwellings in which they lived
Subsistence - exhibits the tools they used and how they survived
The museum also hosts a gift shop run by the Pottery Guild where visitors can buy handcrafted items crafted by Pamunkey tribal members.
About The Tribe
Departments
Contact
Address
175 Lay Landing Road
King William, VA 23086
Hours Open to the Public
April-August
Mon-Wed: CLOSED
Thur-Sun: 11am-4pm
September-November
Mon-Fri: CLOSED
Sat-Sun: 11am-4pm
December-March
CLOSED
Schedule
Admission
Seniors (65+) - $3.00
Adults (18+) - $5.00
Children (4+) - $3.00
Contact
Phone: (804) 843-4792
Email: museum@pamunkey.org
Facebook